Improving a business is an easy idea to agree with but a much harder one to implement. Finding areas that need improvement and making changes accordingly is one of the most difficult ideas to quantify. Systematically improving performance on a continuous basis is very difficult for most industries to do on their own.
We were also looking for ways to make improvement a continuous and structured effort when we learned about Kaizen Events. This approach engages the employees in determining where improvements can be made and how to successfully implement solutions. By improving the process, we reduced inefficiencies and increased the quality of the final products.
Because we have been extremely successful with the Kaizen approach, we produced a new eBook to outline how this can be used to improve manufacturing operations as well as any other business structure. How to Use Kaizen Events to Optimize Manufacturing offers a glimpse inside Manor Tool and our drive to improve company performance.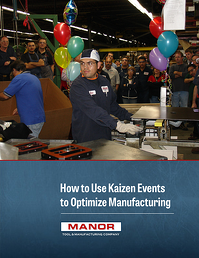 When you download this eBook, you will explore
What a Kaizen event is
How Manor implements Kaizen events
Examples of Kaizen success stories at Manor
Barriers to implementing Kaizen events
Creating an effective Kaizen event
The real power of Kaizen events
Sometimes, the greatest obstacle to modifying or changing a process is the idea that "that's the way it has always been done." With Kaizen events, the issue isn't to tear processes down but to build them up through improvements that have been carefully evaluated through knowledgeable discussions.
Having experienced this process first hand, we believe that Kaizen events are well worth the time and effort. We have used Kaizen events to target improvements in safety and efficiency throughout the company and continue to improve our processes for our employees and our clients.
Download How to Use Kaizen Events to Optimize Manufacturing for free from our website today to begin the process of optimizing your operation.
---
---