The use of robots in manufacturing has come a long way in a relatively short amount of time. They are now recognized as an effective way of increasing efficiency and cost-savings, while eliminating reliance on an unskilled labor force and creating a need for new, higher skilled employees.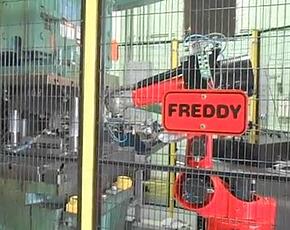 For companies in various industries throughout the country, automation is proving to be the key to the competitive edge. For example, Boeing has recently made the decision to utilize more automation in order to stay ahead of its competitors. In a recent article on the subject, it was stated that this decision—largely based on the fact that automation is the key to greater production efficiency—means the aircraft manufacturer could potentially "increase production from 8 jets per month to 10 or even 12."
Automation in metal stamping has proven to reduce cycle times and increase productivity. When looking to remain competitive, greater efficiency, higher production and lower costs are the keys to success. At Manor Tool & Manufacturing Company, our robotic work cell—affectionately known as Freddy—has proven to drastically reduce cycle times for a number of clients. Freddy automates the movement of pieces between machines, placing and separating final parts that have been formed from scrap web. This has created a truly innovative use of automation for metal stamping at Manor. When Michael Wenzel, a well-known German robotics expert, visited Freddy recently, he was certainly impressed.
True innovation is what has always set American manufacturing apart, and is what will continue to do so. Robots are one of the brightest spots in innovation right now, and it's exciting to think of what they will continue to do for the industry in the future.
(Want to see Freddy in action? Check out this video)
---
---