The manufacturing industry has helped shape the face of our country for hundreds of years. With the development of new technologies, many professionals have been able to meet the growing application demands of the industry. As time progressed, applications became increasingly challenging, spurring the need for newer technology and competent workers to utilize said technology.
Manufacturing is widely considered a "traditional" industry, in which most of the professionals have decades of experience; though experience is a highly sought after trait, many workers have long since reached retirement age. With these workers retiring, the industry is looking for the next generation of engineers.
At Manor Tool, our team is all too familiar with this problem—that's why we regularly participate in educational programs to encourage interest in manufacturing.
Last January, our company partnered with the University of Illinois to give students real world engineering experience. With support from Manor Tool, a senior engineering student team of four tackled some significant assignments. Students were tasked with:
Performing in-depth research on casting and other technologies that may be applicable for die fabrication
Selecting two dies and reviewing each for cost and lead time reduction
Analyzing current stamping drawing designs, materials, and applications
Researching lubricant technologies for the materials selected
Analyzing force and friction environments in which the dies much withstand during stamping operations
Development of progressive die fabrication and lubrication alternatives for die design
Reviewing alternatives with Manor Tool personnel for applicability, feasibility, cost, potential prototyping, testing and economic analysis
Finalizing recommended designs, lubricants, and economic analysis for delivery to Manor Tool & Manufacturing Co. along with final report and presentation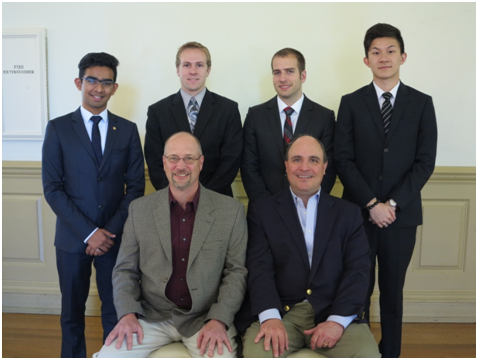 Back Row left to right: Pratham Gandhi, Brian Hoppe, Matthew Wiencek, Jingtin Lin. Front Row left to right: Kevin Segebarth, Tom Simeone
Our engineers provided students with feedback for each of these tasks and helped finalize the results for highly detailed reports and presentations. Each team of students worked diligently to complete assignments under the watchful eye of Manor Tool's team of specialists.
"It was great seeing the students' progression over those few months, said Kevin Segebarth, General Manager of Manor Tool. "I was impressed by their very professional manner and eagerness to learn—in my experience, many engineers don't fully recognize the importance of continuing to learn and grow."
Learn more about how Manor Tool supports the next generation of engineers by contacting us today.
---
---