While the far-reaching effects of technology in contemporary life are no secret, many future opportunities in engineering and manufacturing have yet to be explored. The world of tomorrow will be defined in large part by young people who choose to study engineering in the coming years.
At Manor Tool & Manufacturing Company, our involvement with the community goes far beyond our stamping and tooling services.
We are dedicated to helping engineering students connect to the manufacturing world, gaining essential real world experience while improving their current skills — and perhaps becoming inspired to seek out new ones.
Inspire Your Future: Uniting Education and Industry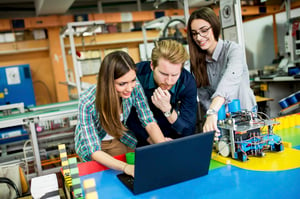 We are proud of our relationship with the Inspire Your Future initiative. This organization is dedicated to bringing the lessons of the classroom to the real world.
Reaching over 24,000 high school students, Inspire Your Future provides valuable workplace experience for young people who want to see the relevance of their schooling first hand.
The group also plays a vital role for local businesses, helping to attract students to areas that employers need the most help to fill.
Training for CEOs
We're not talking about chief executive offers here, but rather Career Exploration Opportunities. The CEO program offered by Inspire Your Future provides future engineers and manufacturers direct contact with the industry.
Students can choose from a number of valuable experiences, including company tours, on-site job shadowing, mock interviews, and company internships. The CEO program also brings the industry directly to students, with company representatives available to provide education to classrooms or school assemblies.
Empowering Students to be Industry's Leaders
We are proud partners with the Inspire Your Future program, helping high school students learn all different angles of the manufacturing industry.
Young people can enjoy the benefits of learning about career options that suit their skills before making expensive college choices —maximizing the benefit of their education.
Our work also gives students an early advantage by letting them set career goals that reflect realistic opportunities in the world of industry, all while working with a trusted company that has been serving the community for over 50 years.
Our work with Chicago's future engineers doesn't stop with the Inspire Your Future program, however. We have a tradition of staying in touch with young people who are interested in exploring engineering and manufacturing.
In October 2015, we welcomed Cook County President Toni Preckwinkle to our open house celebrating Manufacturing Day; many students were in attendance to get better acquainted with the industrial and manufacturing field.
In addition to working with local high schools, we also have partnered with the University of Illinois to give college students important engineering experience in real world settings.
Dedicated to Improving the Community
With our long tradition of providing the best quality manufacturing in the area, we are proud to supplement our educational outreach programs with a broad range of services to benefit the community.
Our programs include innovative seminars areas such as Kaizen Events and much more. You can download our eBook on Kaizen Events here. To find out more about how we work with the community to build the future of engineering and manufacturing, please contact us today.
---
---