In Loving Memory
Schiller Park IL. –  It is with much sadness that we announce the passing of Lee Simeone, Founder of Manor Tool & Manufacturing in Schiller Park, IL.
Mr. Simeone founded Manor Tool & Manufacturing in 1959, choosing Schiller Park, IL., as his company's location due to the manufacturing hub of the City of Chicago and the adjoining Chicagoland Suburbs.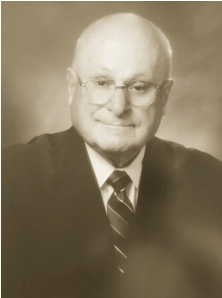 Lee Simeone
February 19, 1924  – April 24, 2014 
Mr. Simeone resided in nearby Park Ridge, IL. with his wife Louise Simeone that passed in August of 2007.  They are survived by their 7 Children, 13 Grandchildren, and 3 Great Grandchildren.
Being a native of Chicago, Mr. Simeone served as a Marine in WWII and was honorably discharged at the war's end.  After returning from his military service he learned the trade of Tool & Die making and worked for several companies in the area.
In 1959, Lee founded Manor Tool & Manufacturing Company.  He was Manor's CEO until he semi-retired in 1995.  He turned the day to day functions over to his youngest son, Thomas Simeone as President and his Son-In-Law Kenneth Galeno as Vice President.
Lee always had a passion for tool design and sustained an exceptional Tool & Die apprentice program that trained many successful tool makers and die designers throughout the Chicagoland Area.
We will remember Lee for his sincere kindness, his wonderful sense of humor, his dedication to his employees, his commitment to the metal working Industry and the advocacy of manufacturing in the U.S.A.
---
---