In an ongoing effort to streamline its manufacturing processes, Manor Tool recently partnered with Coe Press Equipment to implement dedicated feed lines with great success.  The new equipment resulted in positive changes to the manufacturing process, including increased throughput, efficiency and time management.
Before Manor implemented the SpaceMaster Series 3 compact coil line in its facilities, it relied on mobile feed lines that could be adjusted to meet the particular requirements of each job. While this strategy had its own benefits, general manager Kevin Segebarth quickly discovered that its downsides outweighed those perks. The mobile feed lines delayed the start of a project by hours, including the time spent to locate specific items and relocate equipment.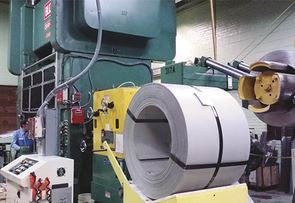 In keeping with Manor's shift towards lean manufacturing, Segebarth reached out to Coe Press Equipment to streamline the process. Coe recommended the SpaceMaster which, unlike Manor's existing equipment, was bolted to the floor and dedicated to Manor's Bliss press.  The SpaceMaster combined three processes, including unwinding, straightening and feeding. It was capable of processing material between 10 to 24 inches wide, and between 0.020 and 0.250 inches thick, with a weight of up to 11,000 pounds.
The benefits of using Coe's SpaceMaster were immediate. In the past, changing coils took workers at Manor up to 20 minutes to complete, especially with heavier coils. The new machine cut that time span by more than half. The SpaceMaster featured automated functions that required fewer operators and labor. It even improved safety conditions for workers on the floor, especially when errors in the feed line caused equipment to lurch unexpectedly.
Happy with the results, Manor ordered another SpaceMaster, this time one that could handle coils up to 40 inches wide and between 0.015 and 0.250 thick, with a weight of up to 15,000 pounds. At the end of the day, Manor's lean initiative produced faster processing times and a safer working environment.
The story of Manor's lean manufacturing success was recently featured in this month's MetalForming magazine. If you missed the issue, you can now read it online.
---
---