The global business environment for manufacturers has never been more competitive. As the axiom goes, a company's performance relative to its rivals is either getting better or its getting worse — it never stays the same. However, while manufacturing executives are aware that they need to constantly improve their firm's processes, actually quantifying that improvement is difficult, and figuring out a way to systematically improve company performance on a continuous basis is even more so.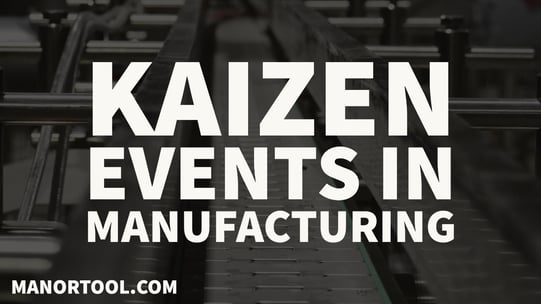 In the late 1980s, several multi-national manufacturing corporations trying to identify a method to continuously improve company processes came up with the "Kaizen Event." A regularly scheduled gathering of employees from all areas of a firm, Kaizen Events are designed to focus that collective experience on any number of individual challenges.
At Manor, Kaizen events are cohesively linked with our safety program, and we've learned how to use them to target improvements in safety and efficiency in a wide variety of company environments. With a focused application, we believe Kaizen Events have the potential to benefit not only manufacturing firms, but also firms in banking, government, healthcare and many other industries.
Kaizen Events can be powerful tools to make improvement a continuous and structured effort. What follows is a brief introduction to Kaizen Events and how Manor has incorporated the concept into our ongoing operations. We hope you'll find it a helpful introduction to implementing Kaizen Events that can be easily tailored to your business.
What is a "Kaizen Event" Exactly?
"Kaizen" is a Japanese term meaning "improvement" or "improving one's self for the benefit of the whole." The concept grew out of a wider movement to tackle the critical but elusive task of continuously improving manufacturing processes — this as opposed to just doing things as they've always been done and only introducing occasional improvements piecemeal without an overarching plan. But how do you create a set of protocols that allow you to apply an actionable framework to that improvement? How do you make it not only efficient, but enforce a schedule on it and make it reproducible?
Motorola spearheaded the effort to systematically address these challenges with the so-called "Six Sigma" approach. The term is borrowed from manufacturing — a "sigma rating" indicates the percentage of products produced that are free from defects. A "six sigma" process is one in which more than 99.99% of products are defect free.
Kaizen Events are part of this approach to reduce inefficiencies and increase the quality not only of products, but also the processes that create them. In theory, the concept behind Kaizen Events is simple:
During a period of 3-5 days, employees from a cross section of departments meet in one place to discuss the process at hand. The participants are all stakeholders in that process, and are usually derived from all areas of the company, from management to administration. The idea is to bring the greatest breadth and depth of knowledge and experience into the discussion.
The group observes the process. This can either be in the form of a demonstration or, if it's more practical, the creation of flowchart of the steps involved.
Once the participants understand the process, they make suggestions to improve it.
Finally, the group discusses options, during which suggestions are either implemented or discarded, until all participants can get behind the new approach.
The primary attributes of Kaizen Events are their efficiency and their focus. They gather the decision-makers and the people actually involved in the process in one place at one time. A particular strength of Kaizen Events is that they get everyone's buy-in so that thoughtful, effective solutions can be implemented quickly. Companies can make rapid improvements, particularly with a process that isn't running particularly efficiently.
How Manor Implements Kaizen Events
Typically, a Manor general manager will spearhead a Kaizen Event, along with a team leader. Also included will be 4-5 employees from virtually any department (punch press, tool room, sales, administration, etc.) to provide a diverse and unbiased observation group. The team assembles in the area where the process to be evaluated takes place, such as a machine operation or particular manufacturing process. However, these events don't just consider manufacturing or machine processes. They can extend to all aspects of the company, including shipping and receiving, inventory management, engineering, and sales.
The team observes the full process. On the manufacturing side, Kaizen events are most often concentrated on safety and efficiency. Some things that team members might consider:
Do they notice something unusual that the operator who works in that area every day might have long since gotten used to?
Is the operator performing tasks that appear to be unsafe, and could they be done in a safer way?
Is the movement of the operator efficient and ergonomic, i.e., is there too much bending and lifting involved?
Are the parts or tools needed for the process inefficiently located?
After observing the process, the team meets to discuss each group member's observations and decide on any action items that could be implemented. The current process is documented, issues or problems are defined, and possible changes are discussed. Suggestions may encompass changes in a work area to improve ergonomics, safety, efficiency, work flow, etc. Any approved changes are implemented, and a follow up of the process is scheduled to evaluate the results.
Examples of Kaizen Event Success Stories at Manor
Kaizen Events sound good in theory, but the proof of their effectiveness is in the improvements Manor has enjoyed since implementing them. Here are just a few examples:
Increasing Productivity:
A customer part required a soft edge around their product. After the part was made, the operator would deburr the edge using a wire wheel. The process was done by hand, always pushing the part upward on the wheel, and it was noted that productivity dropped off at end of day due to operator fatigue. This same part also required countersinking, which was being done by another operator, and again, productivity decreased as the day wore on. After the Kaizen Event took place, the cell on the production floor was redesigned to accommodate several changes to the process:
After the part came off the punch press, the parts were placed on a flat steel skid, two on each skid.
The skid then was slid (not picked up and carried) over to a drill press in same cell where the part was fanned with a fanning magnet, and both parts were countersunk at the same time.
Following countersinking, the edges of the parts were deburred using a wire wheel.
Parts would then be boxed and packaged within the cell and ready for shipping.
As a result of the Kaizen Event, this process now utilized one operator instead of two, provided a break between the wire wheel process to reduce fatigue, all resulting in heightened productivity and a safer process.
Enhancing Ergonomics:
It was observed that operators were often bending over and down to retrieve parts from boxes in their cells. A Kaizen Event suggested elevating boxes to a height that did not require repeated bending and lifting.
Wheels were added to an aluminum riser that carried parts from process to process or machine to machine, eliminating the bending, lifting, and carrying of items to different stations.
Machine presses or work cells requiring similar processes or parts/tooling were rearranged to be adjacent rather than constantly moving items from place to place.
Workspace Organizational Improvements:
In some work areas, Kaizen Events led to the application of a "5S" approach — another work area organizing system with Japanese origins. Loosely translated, the 5S methodology involves Sorting, Systemization, Shining (maintaining a clean, streamlined work area), Standardizing and Sustainability. These principles provided a blueprint for getting all work areas operating as efficiently and distraction-free as possible.
In our experience, Kaizen Events have led to changes that not only improved safety, but also enhanced productivity and even increased revenue.
Barriers to Implementing Kaizen Events
Although Kaizen Events have proven their ability to increase efficiency, boost productivity and provide a program that enables continuous improvement of production processes, many companies are still reluctant to implement them. One primary reason is the perception that such events take employees away from their "main jobs" for up to five days at a time. While this concern is understandable, we've found it to be a short-sighted view. In fact, in our experience, proper application of Kaizen Events has led to better performance in employees "main jobs" allowing them to place more focus on quality rather then process. The events help employees identify ways to spend the majority of time in their primary roles more efficiently, rather than having to frequently "put out fires" and attempt to manage systemic problems with quick fixes over and over again.
Another potential drawback is that companies don't fully embrace the concept. Rather than committing a meaningful number of people for a meaningful period of time, some firms will instead commit a couple of people for an insufficient amount of time. The result is fewer suggestions for improvement, and a perception on the part of employees that decision makers view the effort as unimportant.
And of course, Kaizen Events are not a cure all. There are some instances when another approach is preferable. For instance, if a resolving a problem requires evaluating sets of data over an extended period of time — statistical analysis or variations in long-term experimental results, for example — a carefully selected team of experts that meets regularly will likely be a better choice than a one-time meeting of disparate individuals. Kaizen Events are much better suited to regularly reevaluating existing methods and processes. After all, continuous improvement is the point.
Creating an Effective Kaizen Event
To be effective, Kaizen Events must be championed by management and enjoy the full participation of a variety of employees. During the course of the event, employees on Kaizen Event teams must:
Undergo a brief training period that will allow them to grasp the process more fully
Go into the event with precisely defined goals, outlined in steps 3-5
Acquire a full understanding of the current approach to the process
Be encouraged to think "outside the box"
Develop a plan to follow up on improvements and assess their effectiveness
Of all the steps listed above, #4 is perhaps the most critical and the toughest to establish. Employees must believe that any ideas they may come up with to address problems — even if those ideas may seem unconventional — are important and valued. They must also be assured that any improvements they suggest won't put them or other employees out of a job. Any successes should be highlighted and shared within the company so that everyone can appreciate and understand the value of Kaizen Events — not only those that have been held, but those in which employees may be asked to participate in the future.
Most importantly, effective Kaizen Events require and foster respect. They show that each area of a company has something important to contribute, that each person in the company is an important part of the team, and that each individual is willing and able to improve the experience of everyone else who works there.
The Real Power of Kaizen Events: Your People
Kaizen Events offer companies several benefits, not the least of which is a time-tested, proven method to address a difficult problem: how to continuously improve the efficiency and effectiveness of a company's ongoing operation. But we don't regard that as their chief benefit. At Manor, we've always believed the real strength of our company is the people who work here. Most have been with us for more than a decade, and in that time they've accrued vast amounts of knowledge, experience and problem-solving skill — qualities that go far beyond the limited concept of "value." The real power of Kaizen Events is their ability to help us tap into that knowledge and experience in ways that benefit the company as a whole.
It's a power that we believe any company, using the power of Kaizen Events, can tap into.
---
---