On October 2nd, more than 2,500 businesses across the nation took part in Manufacturing Day, a manufacturing-minded day in which industrial production companies open the doors of their facilities to the public.
Among some of this year's many participants was Cook County President Toni Preckwinkle, who attended our open house at Manor Tool & Manufacturing Company. There, President Preckwinkle toured our modernized industrial setting, noting the opportunities Manufacturing Day offers to people eager to learn more about industrial careers.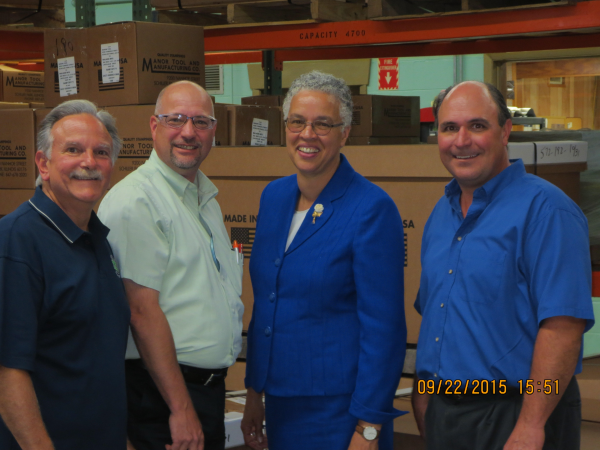 Preckwinkle acknowledged a valuable truth about National Manufacturing Day — while it's undoubtedly beneficial for corporations to interact and receive feedback from the general public, Manufacturing Day also provides an incredible outlet for burgeoning students to familiarize themselves with a field they are passionate about.
The opportunity presented by Manufacturing Day for students can, in turn, result in a positive future for corporations, as well.
"Manufacturers face a growing need for educated and skilled workers," Preckwinkle said, "and events like this are designed to build interest in these careers among the next generation that will soon enter the workforce."
Thus, Manufacturing Day proves a catalyst for a cyclical process in which manufacturers give to students, and in which students will, hopefully, give back to manufacturers.
President Preckwinkle, who has been committed to the support and growth of manufacturing careers for some time, used the platform to discuss the industrial field and its benefits.
Manor Tool was founded in 1959 as a tool and die shop and since that time has grown to be a recognized leader in manufacturing, providing customers with modern and technology driven metal stamping.
Manor specializes in punching, bending, forming, and deep drawn stampings in more than 44,000 square feet of manufacturing space and state-of-the art equipment and machinery.